JNU Incident Had Support Of Lashkar Chief Hafiz Saeed, Says Rajnath Singh
14 Feb 2016 06:25 pm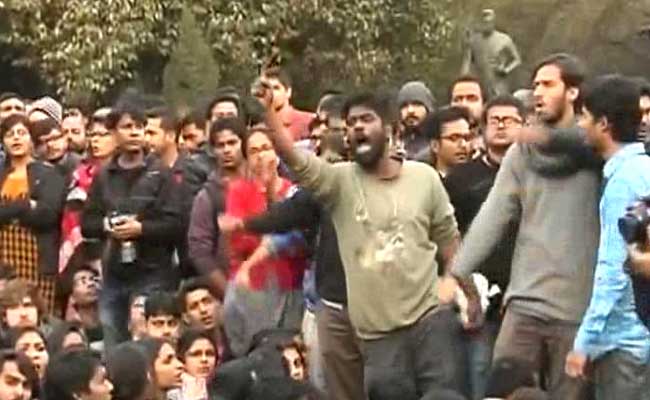 New Delhi: Home minister Rajnath Singh today said the programme eulogizing Parliament attack convict Afzal Guru at Delhi Jawaharlal Nehru University, where anti-India slogans were allegedly raised, had the full backing of Lashkar-e-Taiba chief Hafiz Saeed. The comment came as the matter and the subsequent arrest of the university's student union leader became a full-blown political controversy.
Here are the 10 latest developments:
---
"What happened at JNU was fully supported by Lashkar chief Hafiz Saeed. I appeal all political parties that whenever such situations arise where anti-India slogans are raised, the entire nation must speak in one voice," Rajnath Singh said.

The local police have already sought a transfer of the case to the Special Branch, saying it is a matter of sedition and terror links could emerge. The Delhi Government has already ordered a magisterial inquiry into the case.

Following the arrest of Kanhaiya Kumar and the sedition charges against him, the matter has been politicized, with the Congress, the Left Front and Delhi's ruling Aam Aadmi Party attacking the Central government for "encroaching on the autonomy of universities".

Criticising Mr Singh's statement, senior Left leader Sitaram Yechuri said, "We don't' require certificate of patriotism from the murderers of Gandhi... Rajnath Singh must come out with necessary evidence". Mr Singh, he said, is in the "habit of withdrawing or retracting his tweet,, he did that in case of Pathankot and will have to do so now."

The ABVP, a student's body linked to the BJP, has denied that its members were shouting anti-India slogans at the programme and the video released on social media by the Left Front is fake. The ABVP said it will complain to the Cybercrime Cell about the video.

The student body had shown black flags to Congress vice-president Rahul Gandhi when he went to the campus last evening.

The Congress also alleged that the students were involved in the attack on its senior leader Anand Sharma. A First Information Report has been filed in the matter.

The campus of JNU, one of the premier universities of the nation, has been on the boil since Friday, when Kanhaiya Kumar, the student's union president, was arrested. The police are also on the lookout for five other students.

Kanhaiya Kumar's parents, who live in Bihar, have said their son was being victimised for his opposition to Hindutva politics and was not an anti-national. "There is no question of his following an ideology of anti-nationalism," said Jaishankar Singh, Mr Kumar's father.

The university's teacher's association today said, "One can't prevent dissent by putting Kanhaiya behind bars... the university is not anti-national."