JNU Student Arrested For Sedition: 10 Points On The Controversy
12 Feb 2016 06:43 pm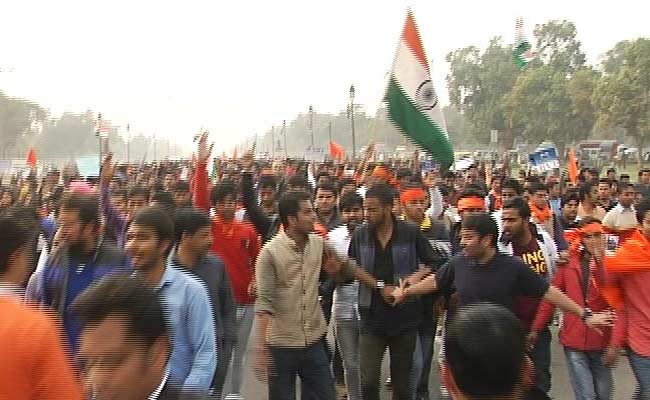 ABVP members today demonstrated against the protests in JNU at India Gate. (PTI file photo)
New Delhi: A Jawaharlal Nehru University (JNU) student has been arrested for sedition and more are being searched and questioned by the police amid protests over a controversial event in support of Parliament attack convict Afzal Guru, who was hanged in 2013.
Here are 10 developments in the story:
---
Kanhaiya Kumar, the president of the JNU students' union, was taken for questioning and then arrested this afternoon. He has been charged with sedition and conspiracy.

Kanhaiya Kumar is a member of the All India Student's Federation, a CPI-linked body. His party and other Left groups have alleged an "emergency like situation on campus."

The arrest came hours after Home Minister Rajnath Singh warned of "stringent action" against those who organised the protest on Tuesday to mark the death anniversary of Afzal Guru. "Anyone who raises anti-India slogans or tries to put a question mark on nation's unity and integrity will not be spared," he said.

Anti-India slogans were allegedly raised during the event titled "The country without a post office", in which students organized an exhibition and a protest march.

The JNU campus was swarming with police and angry students today. Policemen searched the sprawling campus in South Delhi for more students suspected to be involved in the event.

The university claims it cancelled permission for the event, which was allegedly pitched as a cultural function. Vice-Chancellor Jagdeesh Kumar has called it an act of indiscipline.

The BJP's student wing Akhil Bharatiya Vidyarthi Parishad (ABVP) held protests near the India Gate in the centre of Delhi and demanded action against the university and the students behind the event.

Education Minister Smriti Irani also condemned the incident and said: "The nation can never tolerate any insult to mother India."

The student's arrest has drawn sharp reactions from opposition parties. Left leader Sitaram Yechury tweeted: What is happening in JNU? Police on campus, arrests and picking up students from hostels. This had last happened during Emergency."

This is not the first time that JNU, one of the country's top academic institutions, has witnessed events in support of Afzal Guru.