Taking final too seriously: Taskin Ahmed's picture with MS Dhoni's severed head goes viral in Bangladesh
5 Mar 2016 06:43 pm
Bangladeshi cricket fans have gone overboard with their celebrations of reaching the final of Asia Cup as one of them has morphed a picture of pacer Taskin Ahmed holding a chopped head of Indian skipper Mahendra Singh Dhoni while sounding a war cry.
This picture took social media by storm after Bangladesh stunned Pakistan on Wednesday to set up a summit clash with the Men in Blue. Bangladesh cricket team has been on an all time high for quite some time with them beating top nations at home regularly and this particular fan must have been swayed by emotions while taking to Twitter.
However this is not the first time that Bangladeshi citizens have photoshopped pictures of Indian players and made them viral. After Dhoni's men lost a three-match ODI series against Bangladesh last year, a local news paper had published an image of pacer Mustafizur Rahaman holding a cutter and Ajinkya Rahane, Rohit Sharma, Virat Kohli, Ravindra Jadeja, Dhoni, Shikhar Dhawan and Ravichandran Ashwin standing beneath him with half shaved heads. The image was captioned, 'Mustafizur cutter' which was in tune with the Indians succumbing to cutters and slower deliveries of the left arm pacer.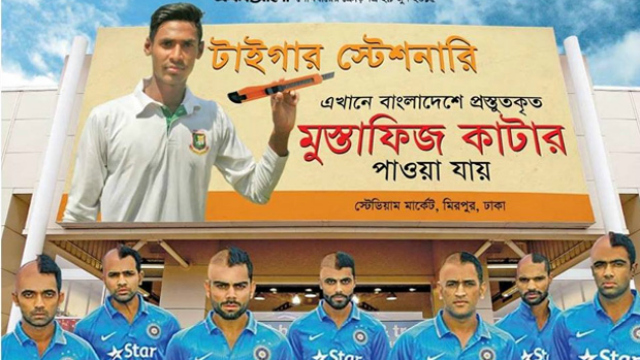 With this recent image of Dhoni's severed head doing the rounds....