WhatsApp Finally Lets You Send Documents Over Chat
2 Mar 2016 06:51 pm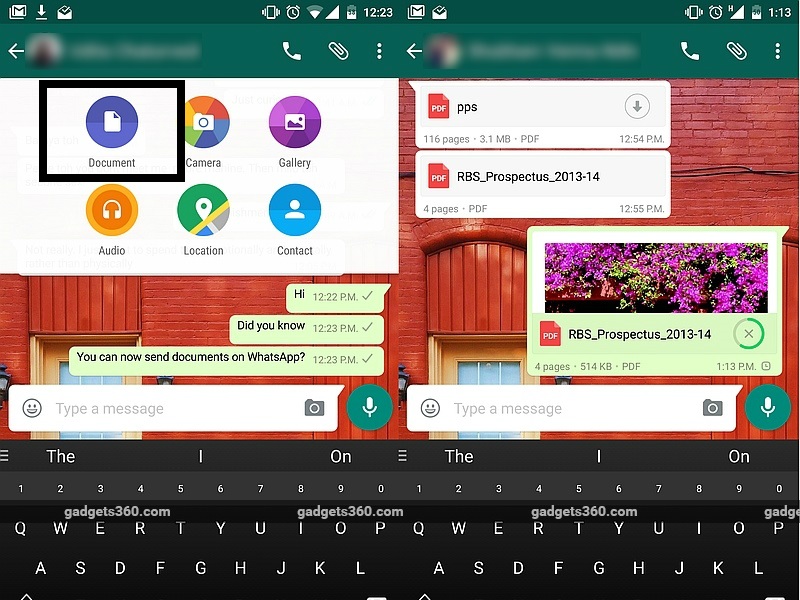 Years after its launch, the Facebook-owned WhatsApp Messenger has finally received the ability to send documents over chats. The feature is visible in the most recent builds available via Google Play and the App Store - Android v2.12.453 and iOS v2.12.4. WhatsApp has also introduced a bunch of other features with the updates.
On Android, the WhatsApp v2.12.453 that's available from Google Play for some users shows a 'Document' option in the Attachments section (seen above). Not all users with the same app version are able to view the option at the moment. However, most users on the latest app version available from the company site - v2.12.489 - are able to see the option, indicating a server-side update. For now, users can only send pdf files but the file support is likely to expand in the future.
In the meanwhile, WhatsApp for iOS v2.12.4 lets users share photos or videos from other apps such as Google Drive, Dropbox, or Microsoft OneDrive. Users would just need to open "Photo/Video Library" and tap "Choose from another app..." to share files. In addition, users can pick from a set of solid colors for chat background. Besides an improved design for browsing photos and videos, iOS users can even zoom in on videos while they are playing.